About Us
Under Shepherd – Pastor Keith McCullough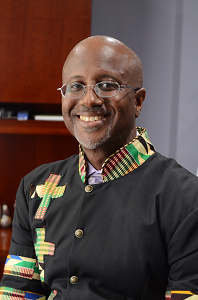 Keith McCullough was born in Pittsburgh, Pennsylvania to Herman McCullough and Barbara Owens. He moved to the Washington, DC area in 1985 and worked for a local law firm until he started his Information Technology career in the federal government where he has held positions as a computer programmer, network engineer, and a systems engineer.
Keith gave his life to Christ in 1990 at Crossroads Baptist Church in Arlington, VA. He got serious about his walk in 1997 and joined the Mount Calvary Baptist Church in Manassas, VA where he was baptized later the same year. At Mount Calvary, he participated in the youth ministry as an instructor, headed the audio/visual ministry, and served as a mentor in the Boys To Men program. Keith received his call from the Lord to the foreign missions field in 1998; during his time on the mission field he has taught at pastor's seminars, participated in street evangelism, preached crusades, and functioned as a team leader during trips to Uganda, Kenya, and Brazil.
In 1999, Keith became a volunteer staff member of the Shalom Outreach Ministries whose goal is to bring the Gospel message to impoverished nations and teach local churches in the United States-- especially African-Americans, how to effectively witness to their Jerusalem, Judea, Samaria and the outermost parts. He now serves as a board member for Shalom Outreach.
Keith joined the First Baptist Church of Sterling in 2000 where he accepted his call to preach the Gospel and was licensed to preach in October 2003. He served as an instructor for the Christian Discipleship class; overseer of the associate ministers, ministers in training, and the information technology ministry. He also served as one of the instructors for the New Members course and was responsible for securing the travel arrangements for guest speakers. He was ordained as the pastor of foreign missions in July 2004.
He was called to pastor the Victory Baptist Church of Front Royal, Virginia in 2007. During his time there the church successfully executed an annual school supply give-away and clothing drive and updated the audio/visual components of the sanctuary. He holds a Bachelor's degree in Pastoral Ministry with a focus on Biblical Studies and is currently pursuing a joint degree consisting of a Master's of Divinity with a focus on biblical counseling and a Master's degree in biblical counseling from Trinity College of the Bible Theological Seminary. He was installed as the 13th pastor of Mount Zion in April 2017.
In 2007, Pastor McCullough and his wife Annette joined seven other families in establishing Covenant Christian Academy located in Vint Hill, Virginia. Keith serves as the Board Chair for the school and his wife Annette works at the school as an teaching assistant. Keith and Annette currently reside in Warrenton, Virginia. They actively conduct pre-marital and marital counseling and have been presenters at marriage conferences in the area. They have five children Takoria, Justin, Takia, Stebbins, and Akili; eight grandchildren Harmony, Aniscia, Kingston, Izabella, Zachary, Somiah, Shyheim, and GiGi.
MISSION
We strive to be a place:
Of refuge, where people can find help

Of instruction, where people's faith & lives are built up

Centered on Christ, where Jesus is held up as a model

Filled with the Word, where the Scriptures are known and applied

Of prayer, where endurance and encouragement are sought from God

Of acceptance, where there is an atmosphere and understanding of hope

Of togetherness, where unity is recognized as a product of God's work Of witness, where acceptance of others is Christ-like
Purpose of the Mount Zion Baptist Church is:
To Worship Almighty God, according to the Bible.

To promote the religious, social, civic, moral and educational advancement of the Community.

To minister to the needs of the members and others as the Church is able to do so.

To do any and all things related to and in connection with the carrying out of the object and purpose herein above set forth.